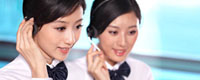 Skype: sindy6131
Skype: waynexu1989
E-mail: admin@queenswing.com




Product name : 2.2KVA/1.8KW 12V 80A MPPT Hybrid Solar UPS Inverter with 2000W 450V PV Input(workable with Lithium Battery)

Item : QW-SP-2.2K12
Details:
2.2KVA/1.8KW 12V 80A MPPT Hybrid Solar UPS Inverter with 2000W 450V PV Input(workable with Lithium Battery)
Product Introduction
Queenswing off grid solar inverter is integrated with a MPPT solar charge controller, a high frequency pure sine wave inverter and a UPS function module in one machine, which is perfect for off grid backup power and self-consumption applications.
Product Features
• Pure sine wave inverter
• Programmable supply priority for PV, Battery or Grid
• High PV input voltage range(55~450VDC)
• Built-in 80A MPPT solar charge
• Compatibe with lithium-ion battery
• Support BMS communication with lithium battery
• Smart battery charge design to optimize battery life
• Overload,high temperature,inverter output short circuit protection
• Cold start function
• Intelligent fan speed adjustment
• Selectable charging current based on applications
• Configurable AC/Solar input priority via LCD setting
• Compatible to mains voltage or generator power
• Auto restart while AC is recovering
• WIFI&GPRS available for IOS and android(optional)
Product Overview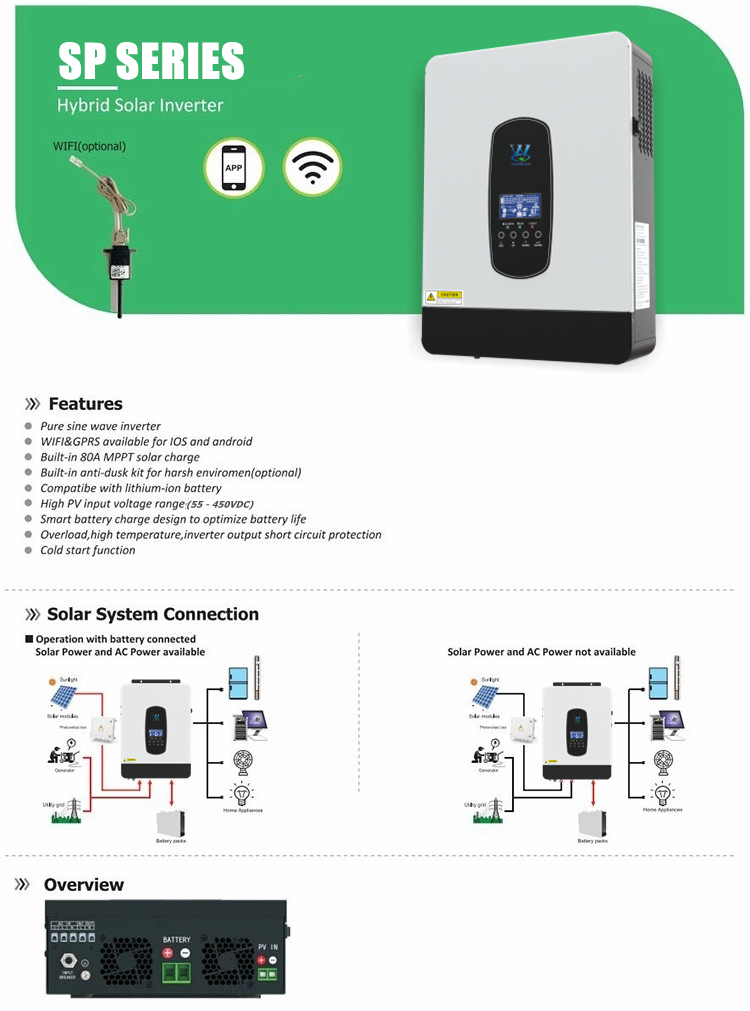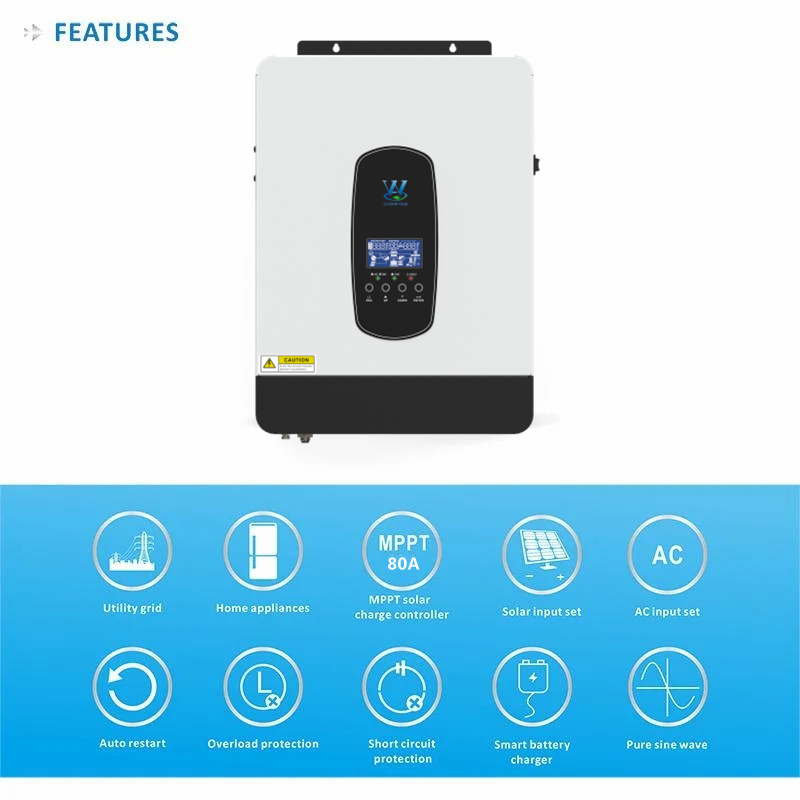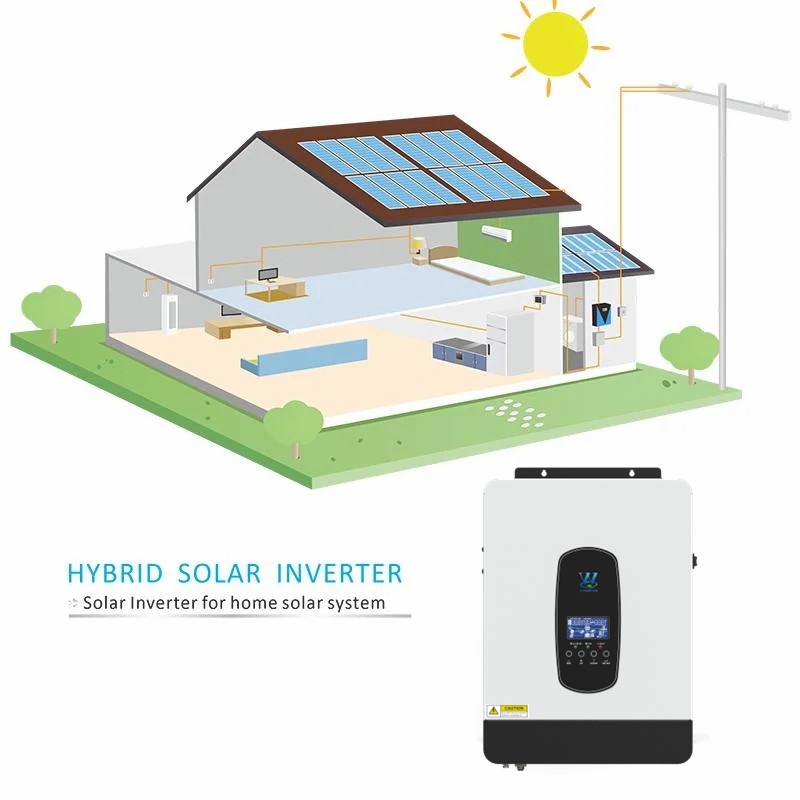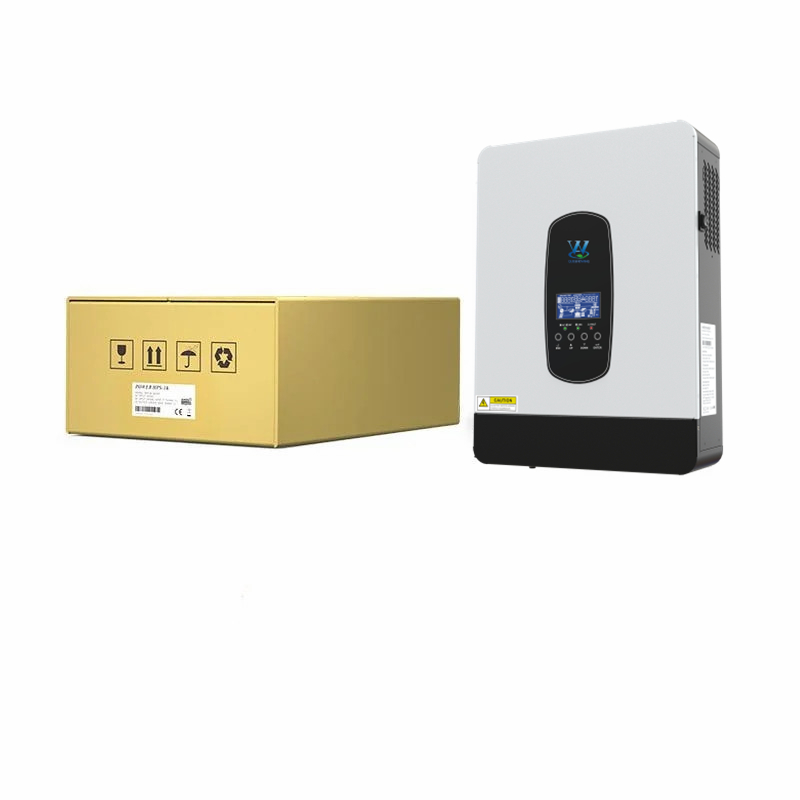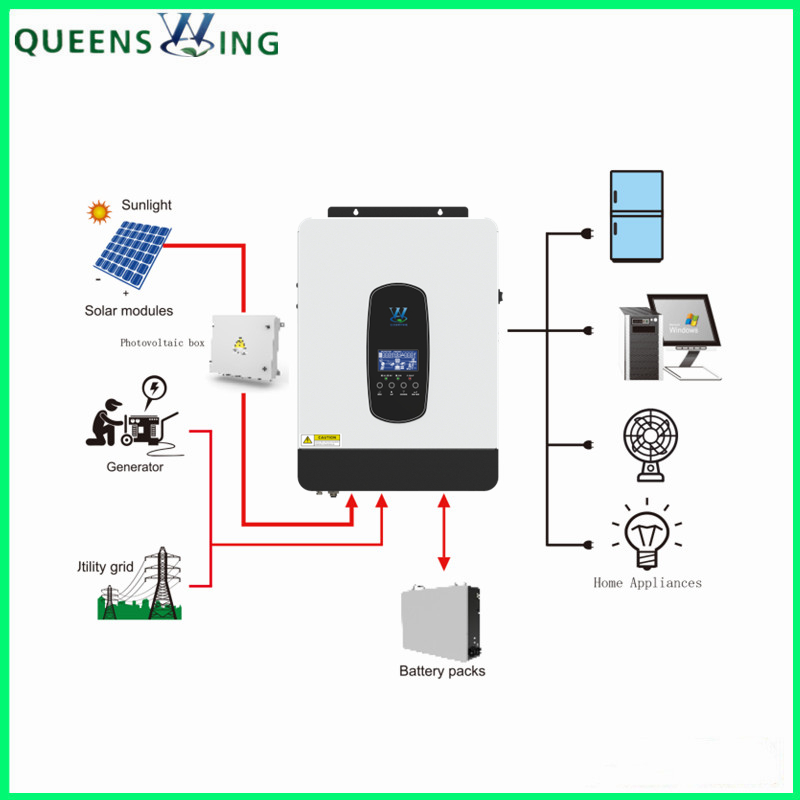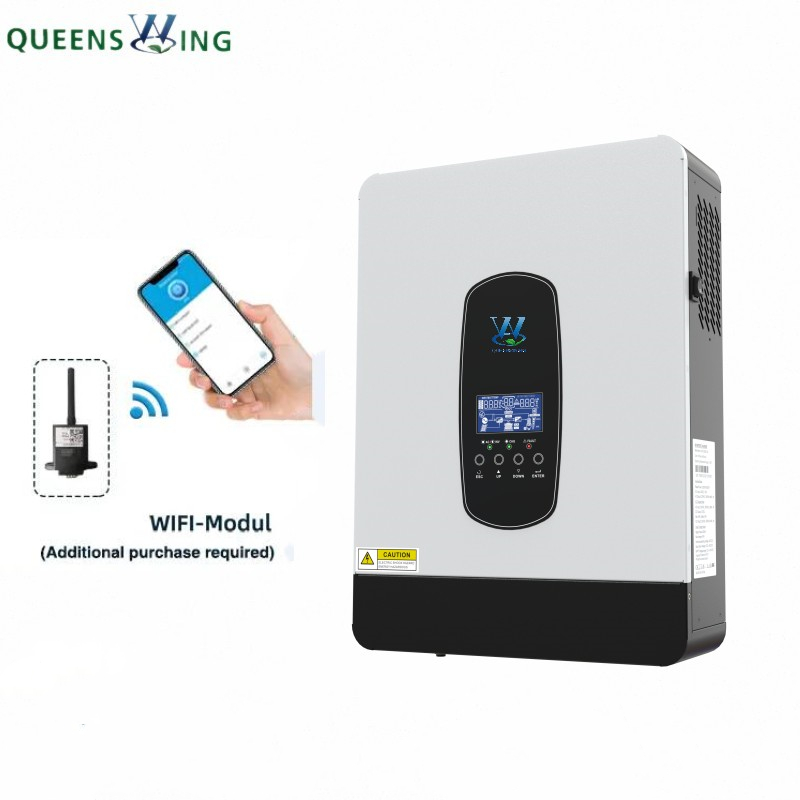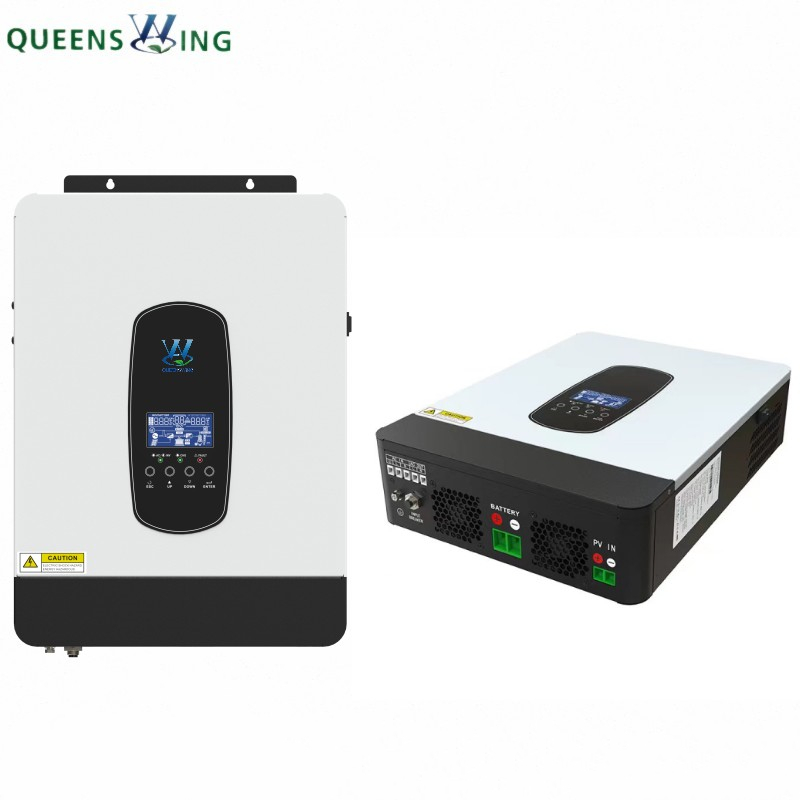 Technical Data

​
2.2KVA 3.2KVA HYBRID SOLAR INVERTER BUILT IN MPPT SOLAR CHARGE CONTROLLER
Model
2.2K-12V
3.2K-24V
Rated Power
2200VA/1800W
3200VA/3000W
INPUT
Voltage
230VAC
Selectable Voltage Range
170-280 VAC(For Personal Computers)
90-280 VAC(For Home Appliances)
Frequency Range
50 / 60Hz (optional)
OUTPUT
AC Voltage Regulation(Batt. Mode)
230 VAC ± 5%
Surge Power
4400VA
6400VA
Transfer Time
10 ms (For Personal Computer)
20 ms (For Home Appliances)
Waveform
Pure Sine Wave
BATTERY & AC CHARGER
Battery Voltage
12 VDC
24 VDC
Floating Charge Voltage
13.5 VDC
27 VDC
Overcharge Protection
15.5 VDC
31 VDC
Maximum Charge Current
60A
60A
SOLAR CHARGER(OPTION)
Maximum PV Array Power
2000W
3000W
MPPT Range @ Operating Voltage
55-450VDC
55-450VDC
Maximum PV Array Open Circuit Voltage
450VDC
450VDC
Maximum Charging Current
80A
80A
Maximum Efficiency
98%
PHYSICAL
Dimension, D x W x H(mm)
470x370x180mm
470x370x180mm
Gross Weight(kg)
6.2
6.8
Communication Interface
RS232(Standard)
GPRS/WIFI(Optional)
OPERATING ENVIRONMENT
Humidity
5% to 95% Relative Humidity(Non-condensing)
Operating Temperature
-10ºC - 55°C
Storage Temperature
-15ºC - 60°C
Product specifications are subject to change without further notice
MODEL
2.2K-12V
3.2K-24V
Inverter Power
1800W
3000W
Pmax.generated from solar charger
80Amp, 2000W
80Amp,3000W
Best Panel Configuration
2000Wp
(250Wp x 8pcs in serial)
3000Wp
(250Wp x 12pcs in serial)
​
About us
Guangzhou Queenswing Solar Energy Co. Ltd. Is a professional manufacturer and exporter of solar products including power inverter, solar charge controller, solar panel and solar battery in China. To provide high-quality product and considerate service is always our basic policy. We believe high quality creates business and progress is from improvement.
Main products
Pure sine wave power inverter
Modified sine wave power inverter
UPS power inverter with charger
Car power inverter
Solar charge controller
Battery Charger
Solar battery
Solar Lighting Kits
Solar Panels
Our power inverter and solar products are exported to most global coutries and get good reputation because of our favorable quality and stable performance.
Payment Terms
T/T, Western Union, Money Gram, Western Union and Cash.
Production arranged after receipt of payment.
Lead Time
Sample order will be delivered within 7 working days.
Order quantity below 100PCS, delivery time is 7-15 working days.
Container order will be delivered within 15-30 working days.
Shipment
Courier: FedEx, DHL, TNT, UPS, Aramex, EMS ect.
Forwarder: By sea / air or Customer designated